Amidst the rush that most of us experience on a daily basis, sometimes it is great to just sit on a bench for a while, enjoy a cup of coffee, and observe the world around you. As everyone enjoys a random and comfortable bench on the street, people now want to have one in their garden. As it's not just a public item anymore, designers have also realized the significance of outdoor benches and they are trying to make benches that look like interesting artworks for outdoor spaces. Here are unique designs that are beyond ordinary furniture and waiting to garnish your backyard!


1. Lightweight Pine Wood Outdoor Bench - Buy Now
Source: GloDea/Amazon
Here is a handmade bench that can withstand up to 600 pounds of weight, and with an eco-friendly appeal.

Created from strong and sturdy pine wood, the table comes in a modernistic design that can change the vibe of your space. There is no doubt that it can make any space look extraordinary! So, if you are searching for a lovable minimalistic bench to beautify your surroundings, don't look any further.
2. Antique Round Tree Bench - Buy Now
Source: Safavieh/Amazon
This is a stylish piece of furniture that you may find in the garden of an expensive resort, but don't worry, the round tree furniture only looks expensive. It is built from premium quality wrought iron and comes in three variants.
You can buy this antique-looking piece for less than $350 and add some Victorian touch to your place.
3. Plastic Coated Metal Bench - Buy Now
Source: CoatedOutdoorFurniture/Amazon
Made for large outdoor spaces, this uniform heavy-duty bench is sure to make your backyard look modernistic. It weighs 119 lbs (53 kgs) and has a shiny thermo-plastic coating. You may not need any additional furniture seats once you place this attractive bench in your outdoor area.
4. Memorial Bench - Buy Now
Source: Kay Berry/Amazon
No matter where you place this stone bench, it is likely to add a natural touch there. This is a weatherproof everlasting outdoor bench made from fused glass stone, on which you can have your favorite quote, lucky number, or some special date engraved.
5. Wagon Wheel Bench - Buy Now
Source: Best Choice Products/Amazon
If you ever dreamt of a table on wheels, here is a bench that you should try. Crafted from good-quality wood, this relaxing piece of furniture is perfect to add some charm to your outdoor living space. The bench is provided with an impressive walnut finish and comes equipped with a sturdy backrest so that you can have all the comfort you expect from it.
6. Butterfly Bench - Buy Now
Source: Alpine Corporation/Amazon
Made of weather-proof iron, the butterfly bench is a blend of beauty and strength. It could be a great outdoor furniture choice for your balcony and garden. Your kids and guest are sure to fall in love with it as it looks very charming in all kinds of outdoor spaces. Moreover, the manufacturer offers a one-year warranty!
7. Modern Outdoor Bench - Buy Now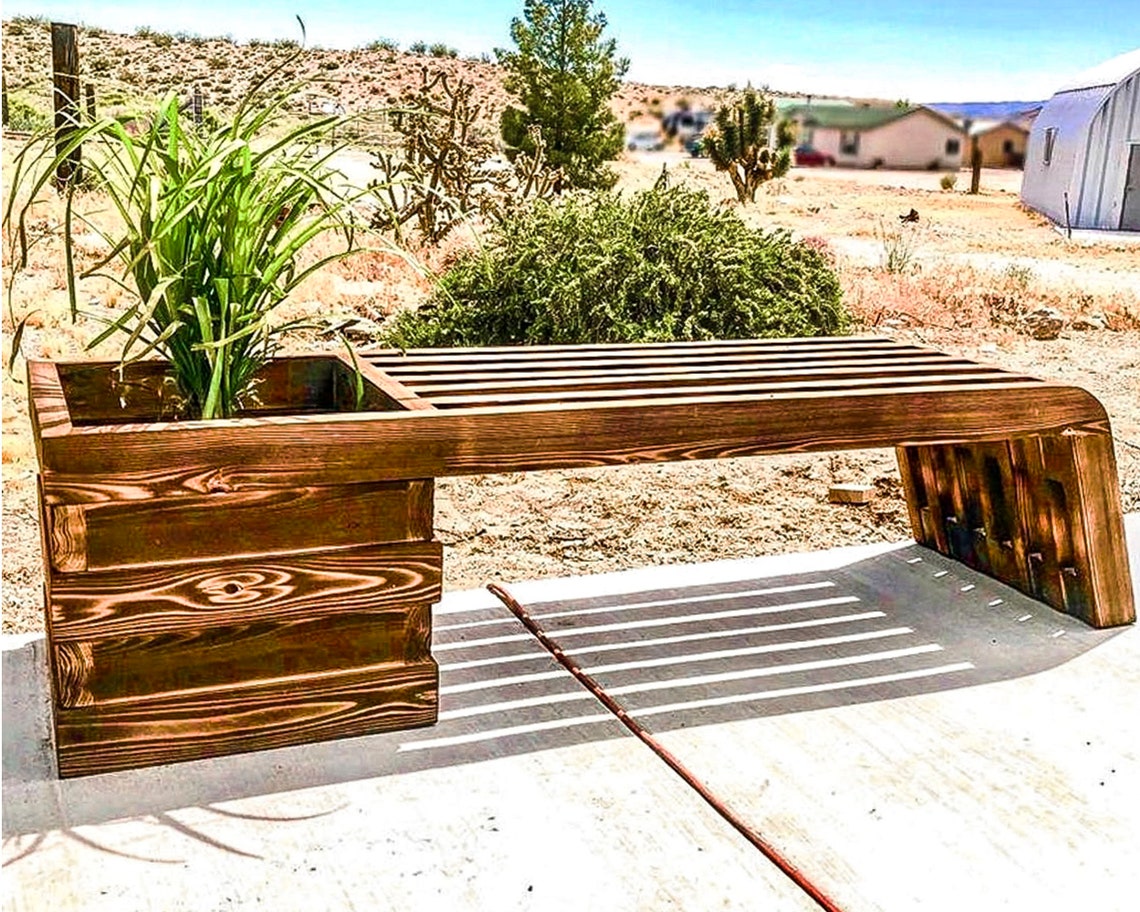 Source: BStoreUS/Etsy
Here is a DIY outdoor bench that looks like a modern and sustainable furniture solution. If you are a fitness-conscious person, this bench could turn out to be your favorite spot for meditation and yoga-related activities. You can place this thoughtfully designed furniture in any type of outdoor or indoor living area, plus you can also grow any small tree in its in-built plantation space.
8. Outdoor Bench With Pullout Table - Buy Now
Source: Yaheetech/Amazon
If you're looking for the perfect patio bench to have a pleasant conversation with your best friend on weekends, here is a strong and reliable one! The frame is made from high-quality cast iron, and it comes with fade and water-resistant surface coating along with a pullout middle table.
9. Parametric Bench - Buy Now
Source: TerraformDesigns/Etsy
Did you know that more than five people can relax together on this captivating outdoor bench? The external structure of this furniture is built from Baltic birch plywood and supported by a steel framework.
If you are looking for extraordinary artwork that can also provide you comfort, the parametric bench is what you might be looking for. Moreover, you can also have a personalized finish on this product.
10. Side Leg Boulder Bench - Buy Now
Source: Stone Age Creations/Amazon
Built to last for generations, this super-attractive boulder bench is one-of-a-kind outdoor stone-art furniture. It is made from mountainous stones and polished granite. If you want more comfort while sitting on this bench, you can also use its side leg to rest your arms.When nobody is seated on the bench, it does look like some expensive sculpture!