By The Sea - Nautical Nursery Decor
A new baby is always wonderful. If you are expecting a baby then you will know that there is a lot of preparation to be done. One of the main tasks is to ready the nursery.  Nautical Nursery Decor is a lovely choice for a new baby of either gender. It is important that this is a place that will be comfortable for both you and the baby. Choosing a theme for your nursery is a fun task. A nautical nursery theme is perfect for a child of either gender. Perfect if you adore ocean animals or if you live by the sea. You can implement this theme without buying unnecessary items. Simply look for needed items in the right color or style.
Nautical Nursery Decor - Mobiles
Mobiles are the perfect way to entertain very young babies. You will notice that your baby will watch the movement and enjoy the sound even at only a few days old.
Pink Octopus Mobile
Nautical nursery decor is not just for the nurseries of little boys. There also many choices that feature more feminine colors. This beautiful mobile plays Brahms Lullaby to gently soothe your baby.
Available to purchase here - Carter's Sea Collection Musical Mobile, Pink/Blue/Turquoise
Sailboat Musical Mobile
This is a handmade musical mobile featuring adorable sailboats and seagulls.
Sailboat mobile is available online here - Handmade Musical Sailboat Mobile For Baby
Navy Blue Sea Creatures Mobile
A musical mobile featuring fish, seahorse, and octopus. This is designed to fit most standard cribs and plays a soothing tune.
Buy it here - Navy Blue Musical Mobile with Sea Creatures
Whale and Anchors Mobile
This mobile plays the beautiful and soothing Brahms' lullaby. Whales and anchors have been used to decorate in pretty shades of blue and grey. Sure to be a lovely feature for any childs room.
Mobile available online here - Just Born High Seas Musical Mobile, Whales Blue and Grey Anchors
Deep Sea Diver Mobile - Nautical Themed Nursery Decor
This mobile features bright colors that your child will love. The wind up music box plays "Row, row, row your boat" a well known childhood tune.
Get it online here - Deep Sea Diver Mobile by North American Bear Co.
Nautical Nursery Decor -  Bedding
Nautical Nursery Decor - Custom Fleece Blanket
Create a cosy blanket that is also a beautiful keepsake. You can personalize this fleece blanket by adding your childs details.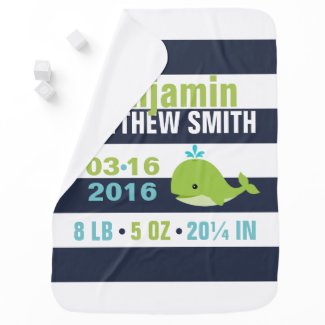 Get it here - Cute Blue and Green Whale Baby Swaddle Blanket
Striped Anchor Cot Quilt
This cute quilt is sure to keep your little one warm and it looks great too.
Check it out here - Just Born Crib Bedding Set, High Seas
Whale Crib Set - Nautical Nursery Decor
Animals are a popular choice for nursery decor themes. Choosing an ocean creature such as a whale is very effective. If you are decorating in blue for a little boy you will find that ocean animals work very well.
Get it online here - Just Born Cotton Fitted Crib Sheet, Jonah
Nautical Sailboat Crib Set - Nautical Nursery Decor
This set includes a quilt, a sheet and a dust ruffle.  A crib bedding collection with an oversized appliqued sailboat in red, white, navy and blue. Any new parent would love to receive a set such as this at a baby shower.
Get it here - Bedtime Originals Sail Away 3 Piece Bedding Set, Blue
Anchor Nursery Set
You will love this 9 piece anchor nursery set. Perfect for your nautical themed nursery. It includes a Crib Blanket, a Bumper, a Fitted Sheet, a Skirt, two Window Valances, a Diaper Stacker, a Toy Bag and a Throw Pillow. This set is 100% cotton and matching accessories are also available.
Check it out here - Sweet Jojo Designs Anchors Away Nautical Navy and White Boys Baby Bedding 9 Piece Crib Set
Nautical Nursery Night Lights
Night lights are very useful in any nursery. Because they don't supply a lot of light they are perfect for when you want to check on a sleeping infant.
Turtle Night Light
Sure to be loved by any child. These sweet turtle nightlights can be left by the bedside and easily carried. You child can have night time light whenever it is needed. A lovely gift idea for a child that is sure to be used often and appreciated.
Available online here - HuaYang Chic 7 Colors Changing Turtle LED Night Light Lamp Room Bedroom Decor Kids Gift
Nautical Nursery Decor - Sailboat Night Light
A hand painted bonded marble night light. This is a beautiful light but it is not a toy and you will need to keep it out of reach.
Available to buy online here - Toy Sailboat Night Light
Sun And Sailboat Night Light - Nautical Nursery Decor
A sweet summer nautical night light. This night light is not a toy but is perfect for soft light. Soft lighting is useful for tending to or checking an infant during the night. Bright light can often be too stimulating leading to a child that stays awake for long periods during the night.
Get it here - Midwest-CBK Sail Boat Night Light
Lamps for Nautical Themed Nurseries
If you need a lamp in the nursery there are some beautiful option available. Be sure to put anything electrical out of your child's reach. Here are some great lamps perfect to suit your nautical nursery decor.
Nautical Nursery Decor - Striped Anchor Lamp
A gorgeous lamp with blue and grey stripes and a white anchor stand. Perfect lamp for any nursery that features the color blue or a nautical theme.
Get it here - Just Born Nursery Lamp, High Seas Collection w/ Striped Shade, Grey/White/Blue
Musical Wave Lamp
This amazing lamp projects the ocean for a soothing effect. It features several different color settings and plays music. Creates a relaxing environment perfect for putting a baby to sleep.
Available here - Ocean Night Light Projector with Music Player
Lighthouse Lamp
Features a bamboo base and a beautiful lighthouse design.
Available to purchase here - Lighthouse Lamp
Nursery Drawer Pulls
Starfish Drawer Knobs
These drawer knobs can be used in any room but do make a lovely nursery accent. They are easy to install and use. You will love the difference that they make to a plain colored chest of drawers. You can also use these as handles on anything else that is wooden. Drawer and cupboard handles are only a small room accent but they can be extremely effective.
Available here - Liberty PBF657-BSP-C 35mm Starfish Kitchen Cabinet Hardware Knob, Brushed Satin Pewter
Starfish Drawer Pulls
Solid brass starfish shaped drawer or cupboard handles.
Available here - 4 Starfish Brass Knobs Drawer Pull Handles 2" diameter
Turtle Pull Handles - Nautical Nursery Decor
Resin drawer or cupboard pulls designed to bring your room to life. So cute!
Get them here - Set Of 2 Ocean Style Drawer Pull Handles Cabinet Knobs
Colorful Sea Life Knobs
A beautiful and bright room accent. These colorful drawer or cupboard pulls are perfect for any nursery featuring bright colors. Any child is sure to love the bright, cheery designs.
Available here -  Set of 8 Bright Colorful Sealife Cabinet Knobs
Nautical Nursery Decor - Toys
Toys are loved by children and choosing ones that match the theme of your nursery is very effective. There are many toys available that will look amazing in your nautical nursery. Toys are not just for fun, they also encourage creative play and aid development. Sights, sounds and activities teach many different necessary skills.
Baby Einstein Ocean Orchestra
A cute toy featuring colorful dancing lights and music. Plays the sounds of five different musical instruments.
Get it online here - Baby Einstein Baby Neptune Ocean Orchestra Musical Toy
Seahorse Toy
A lovely toy that anychild is sure to enjoy. It plays 8 different tunes and soothing ocean sounds. The sounds are activated via a gentle squeeze. Designed to teach babies and toddlers about cause and effect. Also features a gentle glowing light.
Where to get it - Fisher-Price Soothe and Glow Seahorse
Ocean Wave Drum
A child can have a lot of fun creating ocean sound effects with this drum. It is design for children that are aged 24 months or over. Sight and sound stimulation is important for growing infant and this toy supplies both.
Available online here - Ocean Wave Interactive Drum
Rubber Whale Bath Toy
Instead of common rubber ducks this rubber whale is perfect to accent your nautical nursery decor. A beautiful shade of blue and made of 100% pure natural rubber. A smooth, soft toy that features different textures to encourage creative play and entertain little hands.
Available online here - Kala the Whale Natural Rubber bath toy
Catch Me Crabbie
An interactive toy featuring a motion sensor. It moves around and claps when being chased by an infant. Has been designed to encourage crawling and also features six cool sound effects.
Available to purchase here - Little Tikes Lil' Ocean Explorers - Catch Me Crabbie
If you enjoyed checking out the ideas featured in this article you may also like the following;
10 Beautiful Newborn Baby Photos
Adorable Reading Corner Ideas for Kids