A garden is a place that is meant to take away all your stress and fill you up with positivity. What else could be more comforting than having your own little garden? Also, you don't always need to make some special budget adjustments to create an eye-catching green space for you and your family. Surprisingly, things like old tires, buckets, furniture, and used kitchenware can also be utilized in a sustainable way to set up a pleasing garden area.
So to inspire the gardener within you, we have prepared a list of 30 creative small garden ideas. The best part is that you can apply these unique ideas even if you have limited space and budget.
1. Bookshelf Flower Rack
Source: Giantex/Amazon
Have an old rusty bookshelf that you no longer use to store your journals? Try using the same to store your pots in the garden! This way, you will save a lot of space, and your garden area will look more attractive.
2. Handpainted Flower Pots
Source: NOVICA/Amazon
You don't need to buy expensive designer pots when you can decorate your regular pots with some stickers and paint, and make those look expensive.
3. Using Broken Art For Plantation
Source: GAOBEI/Amazon
If you accidentally broke a decorative item, or you have some damaged vintage decor artworks in your storeroom, you can bring them out and restore their glory by placing them in your garden and planting a flower in them.
4. Metal Hanging Buckets
Source: SPECTRASHELL/Amazon
You can hang your plants on your door, fence, a rope, or even on a string with these hanging buckets having detachable hooks, and save space for all the other things you want to grow in your garden.
5. Hanging Flower Basket
Source: Tosnail/Amazon
You can decorate your outdoor space with these hanging pots that can hold your favorite plants and save you from the trouble of making extra space for extra plant pots.
6. Potting Bench
Source: Giantex/Amazon
Need a potting bench? Why not try your old computer table that you no longer use? In order to make it a long-lasting solution, you can replace the wooden tabletop with a plastic or ceramic surface so that moisture doesn't affect its life.
7. Pallet Wood Planter
Source: Yaheetech/Amazon
Wood pallets can be used to create raised plant beds, small and large rectangular flower pots, and various other plant storage units for your garden.
8. Staircase Pot Stand
Source: Garden 4 you/Amazon
You can plant more in less space using this staircase stand. You can either buy a readymade version or build one by yourself using wooden pallets.
9. Tricycle Flower Pot Stand
Source: Ywindl/Amazon
Here is a quick idea to well-organize your flower pots and make your garden look super-attractive. You can have your own tricycle pot stand on a budget.
10. Wall Mounted Planter
Source: KINTNESS/Amazon
With this vertical wall mount planter, you can make the most out of your outdoor walls. This is an easy to assemble, rust-resistant gardening solution that comes with a drainage hole to get rid of excess water.
11. Bicycle Garden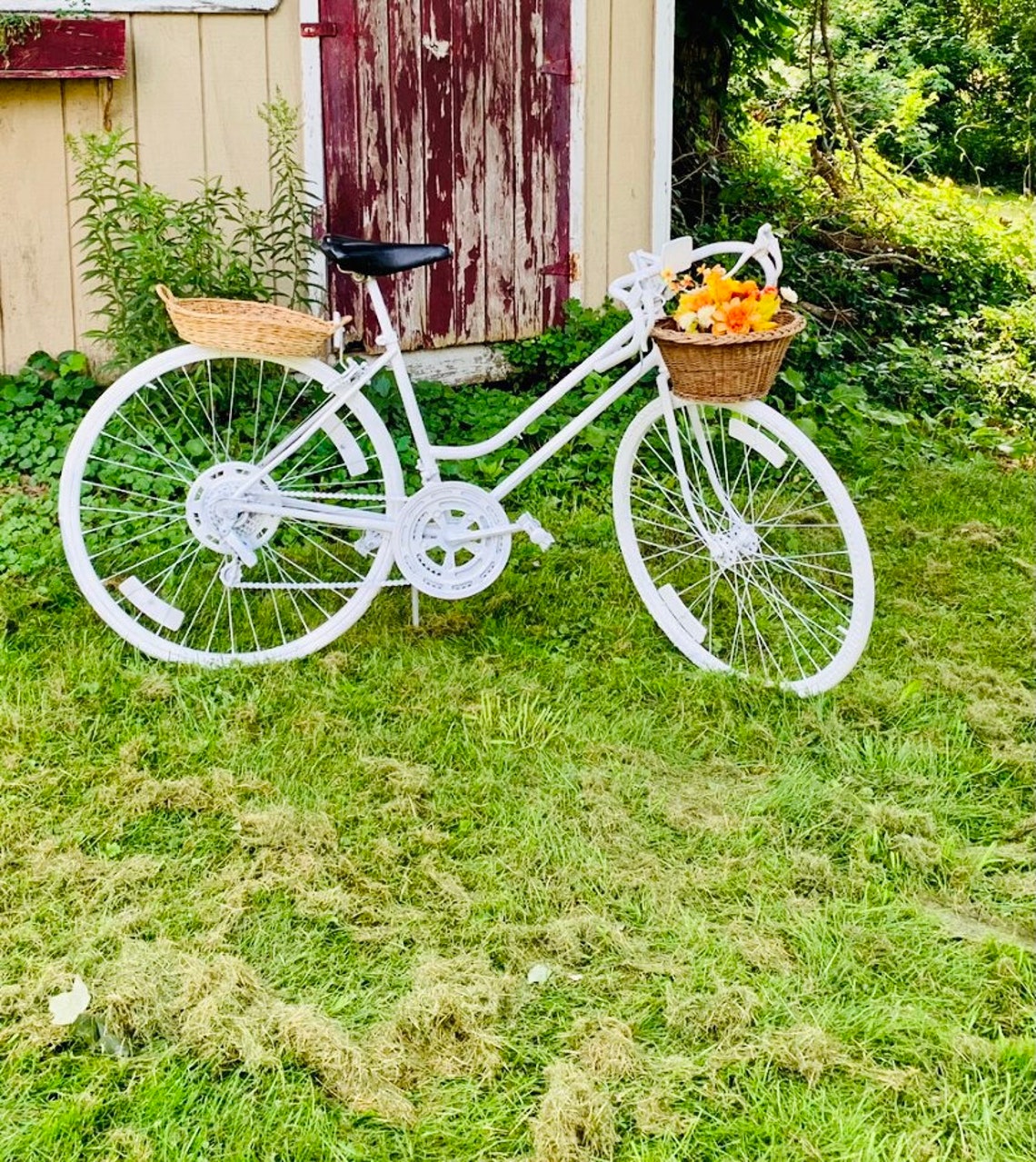 Source: ArtsyGalByMR/Etsy
If you are not lucky enough to have a fancy vintage car to plant flowers on, you can bring that old and dusty bicycle of yours from the garage and turn it into a cool and colorful garden showpiece.
12. Garden Pole
Source: STAUKOK/Amazon
Garden poles are able to beautify any outdoor space. You can hang vine and flower pots or attach bird feeders to them. They hardly take any space and allow you to enhance the look of your garden in multiple ways.
13. Artificial Tree Log Pot
Source: Dahlia/Amazon
If you want to give your garden a more natural look, you can try these log-like pots that are actually made of concrete but look as if they are carved out from a tree. The base of the pots comes with anti-scratching pads so you can also use them inside. They are great for growing succulents.
14. Sliced Plastic Bottle Garden Decor
Source: No1 Garden/YouTube
Decorate your wall-mounted pots with the help of some plastic bottles that you usually throw in the dust bin. All you need to do is paint them and slice them with a cutter. Find the detailed instruction here.
15. Metallic Herb Planter
Source: JIAYUAN/Amazon
You can mount used cans and old metal baskets on a wall and use them to plant some healthy herbs that you would like to use in your kitchen.
16. Stackable Cactus and Vine Planter
Source: Mr. Stacky/Amazon
Perfect for compact outdoor spaces, this stackable gardening utility allows you to plant multiple species of flowers, cacti, and herbs in a very limited area.
17. Hanging Water Garden
Source: XXXFLOWER/Amazon
Looking forward to adding some hydroponic plants to your garden? Try this beautiful setup that you can also make on your own using glass vessels, rope, and some wood logs. You can also use the setup for your indoors.
18. Vertical Plant Pockets
Source: MARTINE MALL/Amazon
Here is a long-lasting planter that you can hang anywhere in your garden and plant all kinds of flowers and herbs inside it. The advantage of this lightweight vertical planter is that you can easily shift your plants whenever you need to, and without any hassle.
19. High Heel Gardening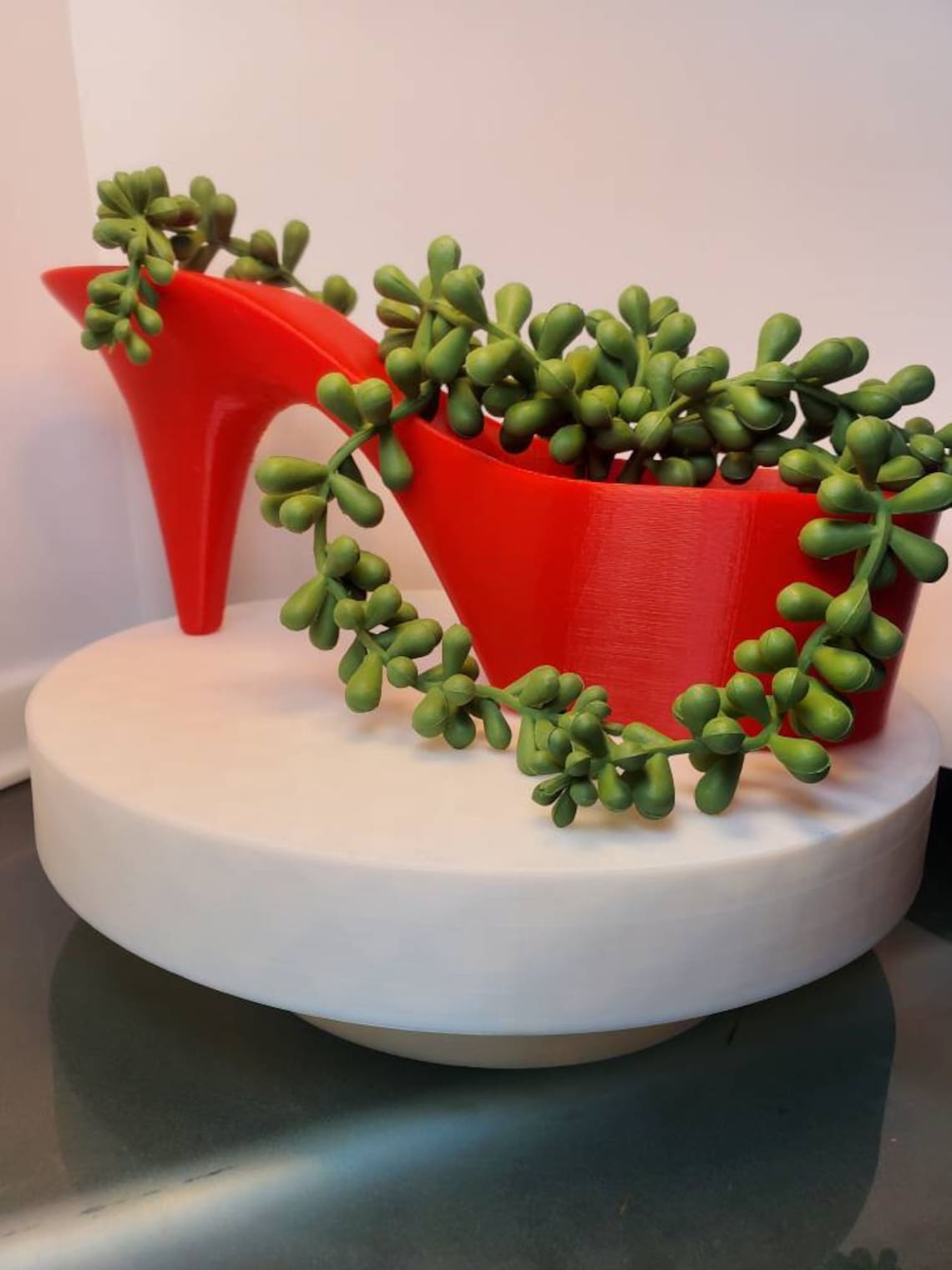 Source: BillynSon/Etsy
Yes, you can also use your old worn-out high heel sandals, boots, sports shoes, and sneakers to plant small succulents, herbs, cacti, and more!
20. Metal Barrel Planter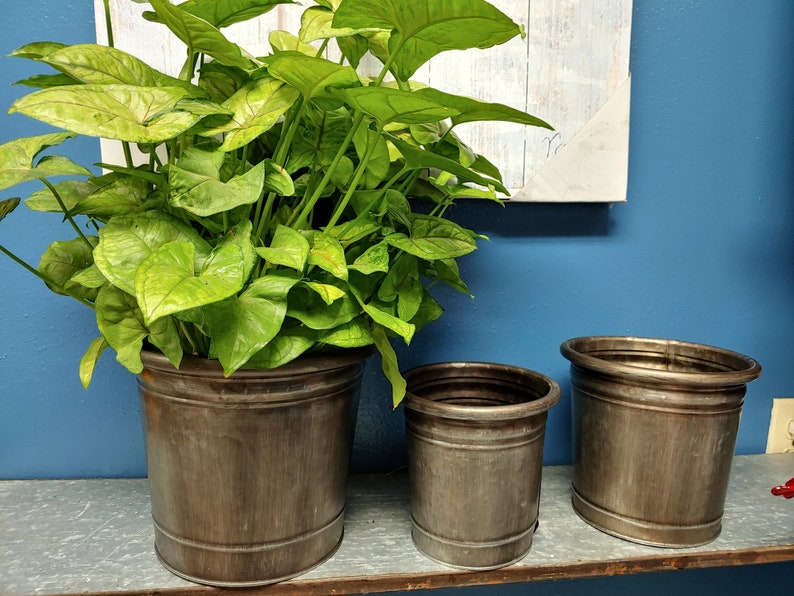 Source: RedShedGarden/Etsy
If you have some old metallic or plastic containers in your store, why not use them in your garden? Large storage bins can be conveniently used to grow not just vines and small plants but also trees that will make your garden look greener than ever.
21. Bookshelf Mini Vegetable Farm
Source: Vita/Amazon
If you want to make a kitchen garden to grow your own vegetables, then you can use an old bookshelf instead of buying some special apparatus.
22. Grow Bags
Source: SCENGCLOS/Amazon
You can now grow fruits and vegetables more conveniently in these budget-friendly plantation bags. For the price of one ceramic pot, you can buy four of these easy-to-use grow bags. Plus, they come with a sealed visualization window that allows you to take care of plant roots and easily extract vegetables like potatoes, carrots, etc without uprooting the whole plant.
23. Coke Bottle Flower Pot
Source: Balcony & Garden/YouTube
Plastic coke bottles can be turned into beautiful flower planters. To make your own colorful coke bottle pots, check out the instructions here.
24. Wicker Plant Baskets
Source: JIDAFANG-US/Amazon
Wicker baskets are often used in hotels and wedding venues for decoration purposes; you can also use them in your garden to make it look more aesthetic and plant all kinds of flowers in them. Surprisingly, one wicker basket costs less than $9.
25. Tin Sheet Plant Bed
Source: Untimaty/Amazon
If you have some spare tin sheets, use them to make a spacious plant bed. This simple setup will save your plant roots from excess heat and allow them to grow without any hindrance. While making the bed on your own, please ensure proper drainage and ventilation as shown here.