Designer lamps look beautiful in any space, they are a great choice for transforming your home or office environment, but most of them also come with hefty price tags. However, you don't always have to empty your pocket each time you want to enhance your interior because there are so many cool DIY lamp ideas that you can implement on your own.

With a five to ten times less budget, you can create your own personalized designer lamps easily at your home. Here are 20 practical ideas that you should definitely try.
1. Hanging Jar Lamp
Source: Wellmet/Amazon
Fix some bulbs inside transparent kitchen glass jars, and hang this attractive arrangement on your ceiling. This DIY lamp is going to look superb inside your kitchen and hall.
2. Newspaper Lamp
Source: S crafts/YouTube
From the looks of it, no one can ever believe that this magnificent lamp is made from old newspapers. Whether you place this lamp in your kitchen, bathroom, or bedroom, it is going to embellish your space in the most attractive way possible. You can find the instructions to create your own newspaper lamp here.
3. DIY Colorful Mesh Lamp
Source: Opalhouse/Amazon
If you want to build this colorful design, take a long electric wire, add some bulb holders and mesh paper-covered bulbs to the holders and that's it. You have your own hanging lamp that you can use to decorate your walls and doors.
4. Straw Lamp
Source: MyInDulzens - Handmade Flower Craft/YouTube
Plastic straws can also be used to make a nice and bright room lamp. Just follow the simple instructions here, and gift yourself a cost-effective yet lovable straw lamp.
5. Popsicle Stick Lamp
Source: Arts & Crafts/YouTube
Here is a perfect DIY lamp idea to show your creativity. You can also gift this beautiful lamp to your friends, which will definitely inspire them and make you proud of your artistic DIY abilities. Find the instruction to prepare this fascinating popsicle stick lamp here.
6. DIY Umbrella Lamp
Source: HeKation/Amazon
With some LED lights, tape, and a small or large umbrella of your choice, you can also create your own umbrella light that is super easy to install anywhere.
7. DIY Halloween Lamp
Source: Just Artifacts/Amazon
If you love to experiment with paper lanterns, then you can try making some Halloween drawings on them with the help of a paintbrush. We bet you'd be amazed to see the way they turn your interior into a spooky one.
8. DIY Cardboard Lamp

Source: SemiHigh Production/YouTube
Cardboards can be used in numerous ways to create lamps. Here is a cardboard lamp design that you can use for both ceiling and bedside lighting.
9. Metal Cage Lamp
Source: LYSCOBE Shed Protector/Amazon
If you're looking for a vintage-themed light decoration idea, then you might want to try making these metal cage lamps. You can hang or mount these easily available metal cages to your walls or furniture, fit a bulb inside these, and your vintage lamps are ready for just 20 bucks.
10. DIY Flower Lamp
Source: Q-Plusmore/Amazon
If you know how to make large paper flowers, then you would be surprised to know that you can also turn the same design into eye-catching flower lamps. Just cut out the space at the flower opening large enough to place a small bulb holder inside it. You can also use the paper flower to cover any hanging lights in your home to give them a unique look.
11. Hanging Whale Lamp
Source: BeaversCraft/Etsy
If you want to make the best use of your carpentry skills, then this lamp idea is perfect for you. You can use plywood and cut it in the form of a whale as shown in the image to make your own whale lamp.
12. DIY Aquarium Lamp
Source: MimiAustraliaGifts/Etsy
Have a small old aquarium? You can turn the same into a gorgeous bedside lamp. Just install some colorful ornaments inside the aquarium and fix the globe on a wood base.
13. Broken Glass Pendant Light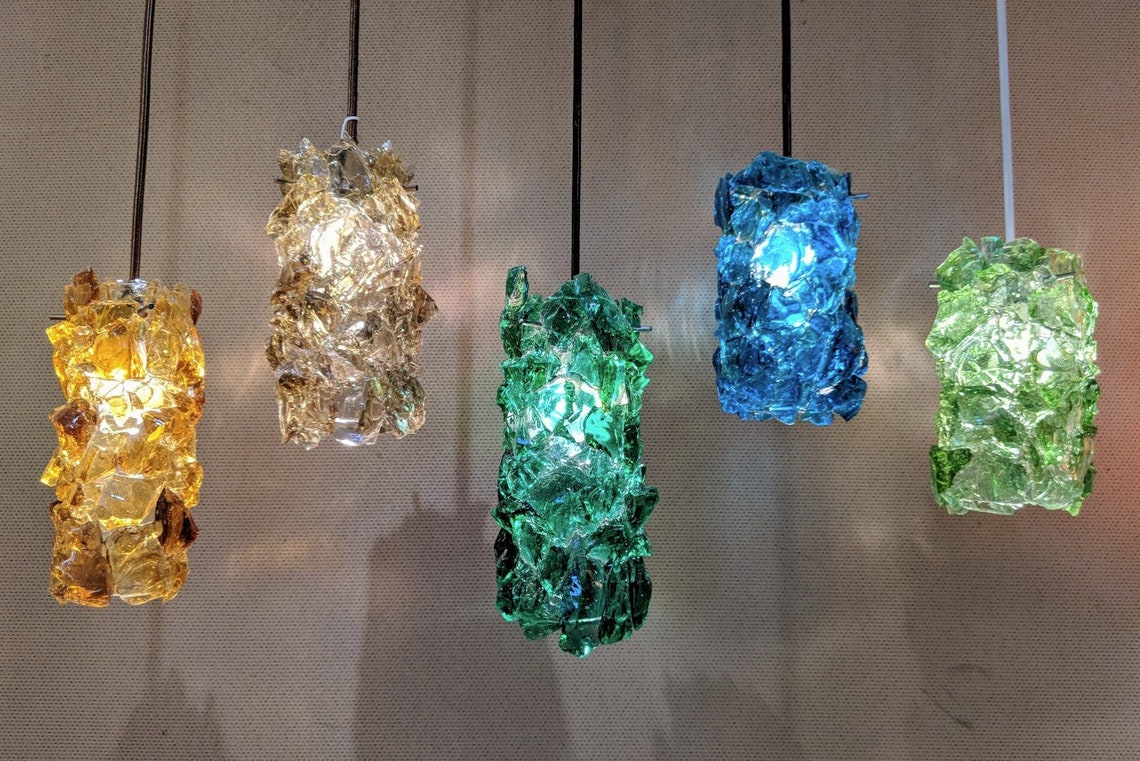 Source: GoldenflowStudios/Etsy
This is a creative and fun lighting idea. Grab some transparent old plastic bottles, cut their upper part, and paint them in different colors. Now fill and cover the bottles with colorful glass chips, and finally fix a bulb holder inside the bottle. You can either hang them to the ceiling or use them as a side table lamp by keeping their bottom plain.
14. DIY Feather Table Lamp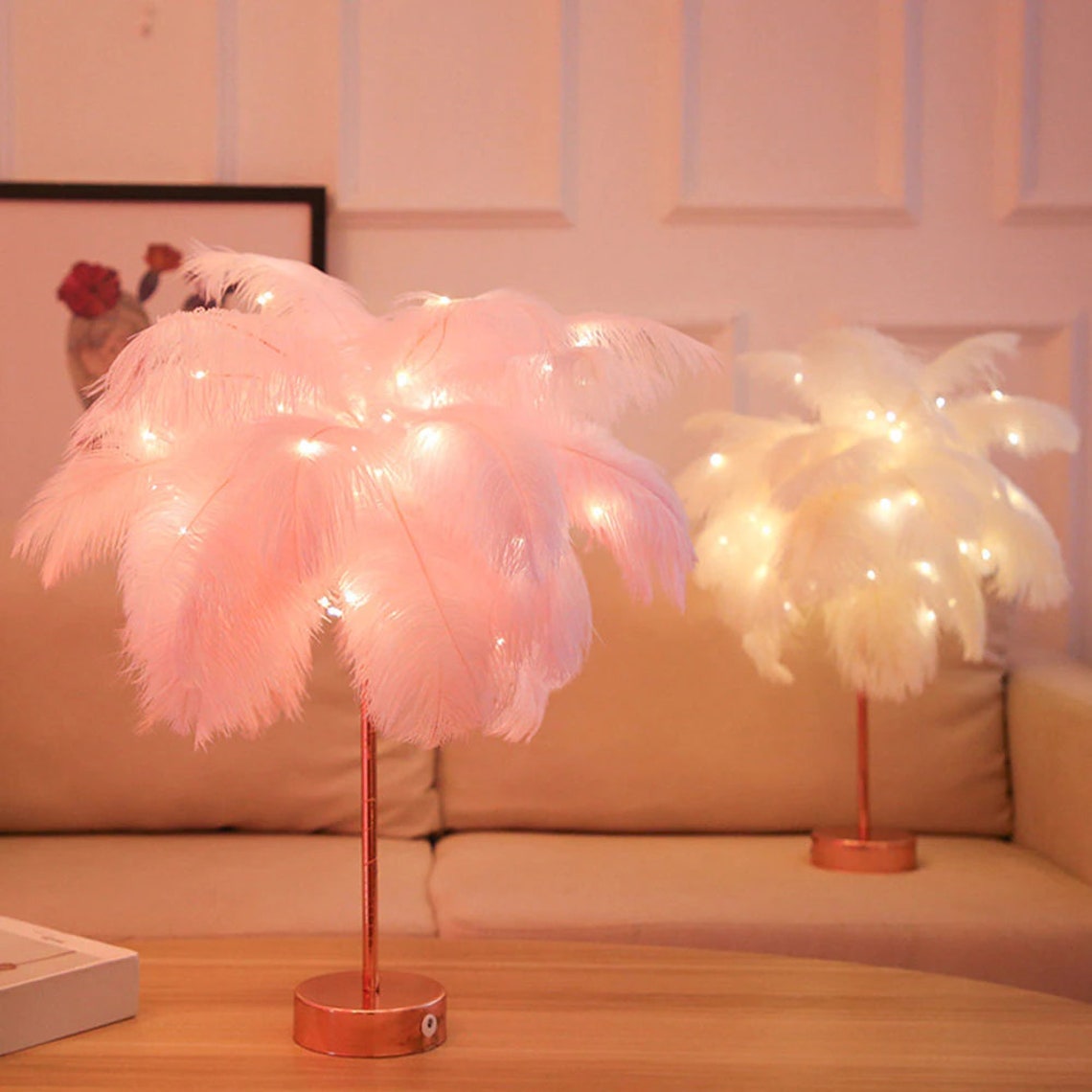 Source: LampsPlace/Etsy
Here is a budget-friendly designer lamp that can be easily created by using LED strings and decorative ostrich feathers. There is no other simpler DIY lamp design than this one.
15. DIY String Lampshade
Source: Recycle Craft/YouTube
This colorful lampshade is made from plastic bottles and strings. The lamps can look great in a study room and give you the perfect vibes to stay cheerful. You can learn to make the string lamp here.
16. DIY Cathedral Paper Lamp

Source: EzyCraft/YouTube
Made from thick paper, this classic DIY paper lamp is great for modern homes and offices. You can learn the step-by-step process to make the cathedral lamp here.
17. DIY Tree Lamp
Source: DIY Creators/YouTube
This is an impressive DIY lamp that looks like some expensive Christmas decoration light. You can also customize the design of this lamp according to your interior. Check the instructions here.
18. DIY Multicolor Lamp
Source: GADAC DIY/YouTube
If you have a plain interior and you are looking for ways to make it more alive, then you should definitely try making the multicolor DIY lamp. Here is the detailed step-by-step process to make this beautiful lamp.
19. Hexagon Lamp
Source: EzyCraft/YouTube
Created from recycled waste material, the hexagon lamp represents a sustainable lifestyle and thoughtful light decor. Find the instructions to build a hexagon lamp here.
20. Jute Lamp
Source: Raj easy crafts/Amazon
This pleasing jute lamp will look great in your living area; you can easily create this creative DIY product using any plastic bottle and jute string. Watch the detailed jute lamp-making process here.