A convenient and well-organized cooking space helps you stay motivated every time you prepare food for your family and friends, and furniture can play an important role in adding comfort and convenience to your kitchen. However, you don't always need to spend a large chunk of money every time you decide to buy your favorite kitchen furniture.
With recyclable pallet wood, you can easily create all the furniture you need in your kitchen and save a lot of money. So here are some thoughtful DIY pallet wood furniture projects that you can try to upgrade and simplify your kitchen experience.
1. Floating Shelves
Source: Love-KANKEI/Amazon
Take some old rusty wooden pallets and mount them on your empty kitchen wall using some metal brackets, screws, and a drill machine. These DIY shelves can be used to store jars, utensils, and other kitchen accessories. You can make as many shelves as you want and of whatever size you wish.
2. Breakfast Serving Tray
Source: Olive + Crate/Amazon
Pallet wood can be used to create food serving trays. These wooden trays look like some vintage kitchen accessories and last longer than any other expensive plastic or glass tray. However, if you don't wish to use them as breakfast-serving utensils then you can treat them as a storage utility for all your kitchen knives, and forks, this way they will never be lost again.
3. Multi-Purpose Storage Crate
Source: EZDC/Amazon
An easy-to-make solution for all the items in your kitchen that need a place of their own. You can place fruits, vegetables, extra utensils, recipe books, jars, and so many other things in these breathable pallet wood crates, that even if you own a small kitchen area you may always find extra space inside it. The best part is that you can also mount these crates on your kitchen wall and use them as shelves.
4. DIY Wine Rack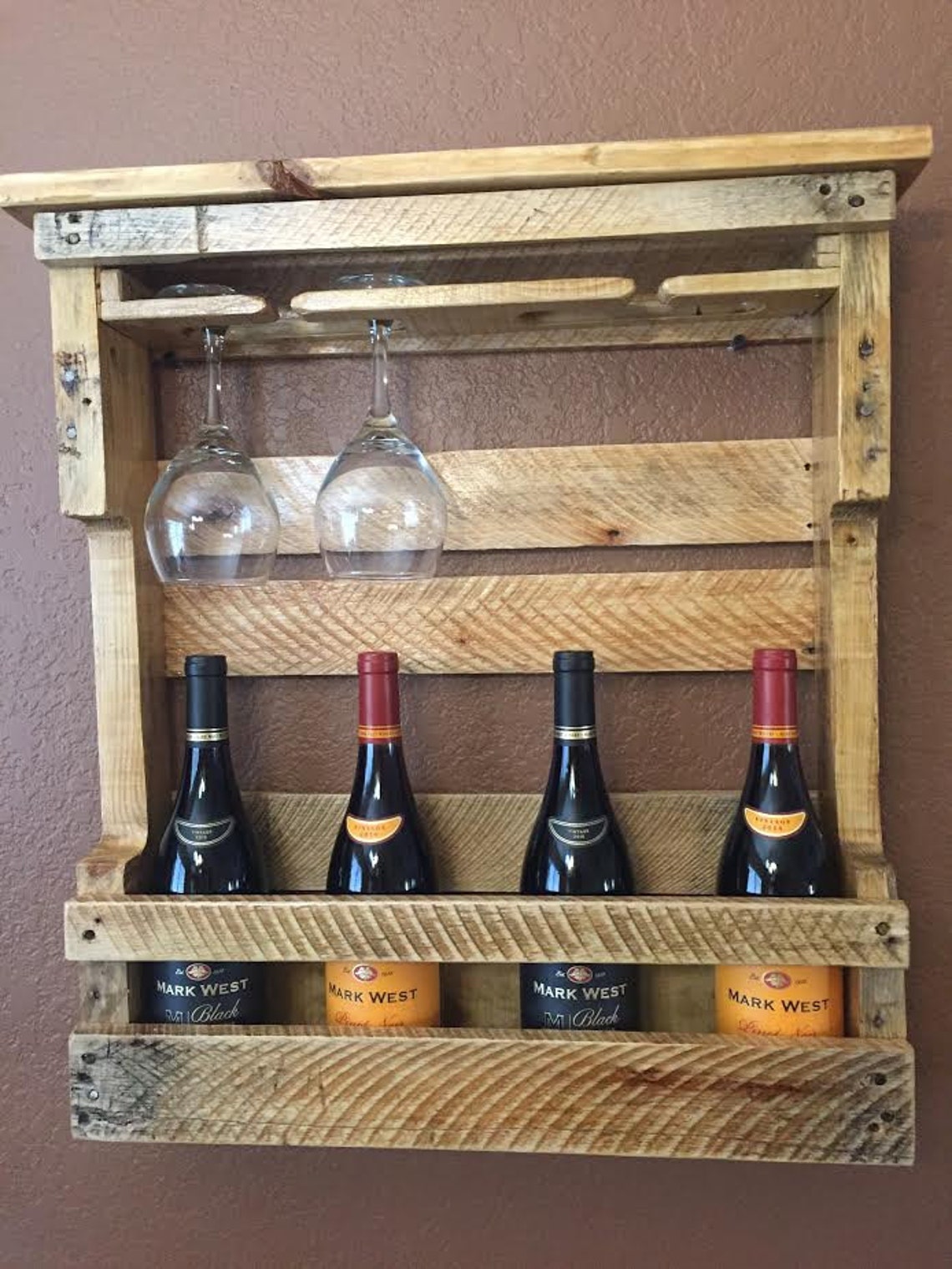 Source: PottersWarehouse/Etsy
This cute little wine rack will save you from the trouble of finding a perfect place to keep all your favorite drinks together. You can easily store five wine bottles on the lower shelf and hang your lucky glass inside this shelf. In case, you are still left with some extra cans or bottles, you can put them in the open-topside area.
5. Hanging Box Shelves
Source: J Jackcube Design/Amazon
Just attach four wooden pallets with the help of nails and adhesive, and your own box shelf is ready. You can simply mount these shelves in your kitchen, but if you want to make them more attractive then you can also try hanging these in with the help of a rope as shown in the figure. These shelves will add both beauty and convenience to your kitchen area.
6. Wall Mounted Shelf Board
Source: MyGift/Amazon
You don't need to be a professional carpenter to craft this simple but very useful shelf board. If you are free on a weekend and you are looking forward to making your kitchen more spacious then this is the best DIY wood pallet furniture idea that you can try with your kids.
7. All-In-One Kitchen Shelf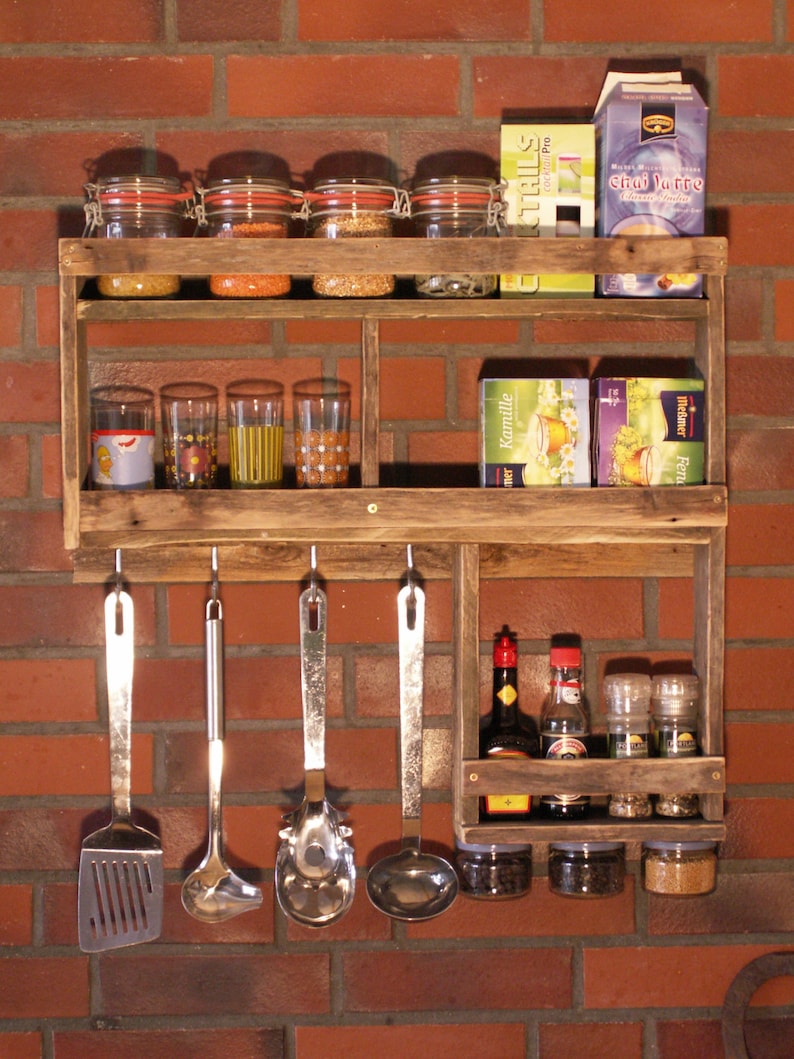 Source: GogoAli/Etsy
Test your DIY skills by making this beautiful and compact kitchen shelf that can keep all your kitchen ingredients and spoons organized. This L-shaped shelf has two large shelves, one mini shelf, and an open utensil hanging area. You can also make two of these and mount them together to form a large kitchen cabinet with enough room for everything in your kitchen.
8. Wall Mount Mug Holder
Source: OurWarm Store/Amazon
Take a rusty wooden pallet, nail some cup-holding hooks on it, and you are ready to mount this setup on your kitchen wall and hang all your colorful coffee mugs on the same. You can also use this mug holder to hang other utensils as well as your kitchen cloth that often goes missing.
9. Kitchen Cabinet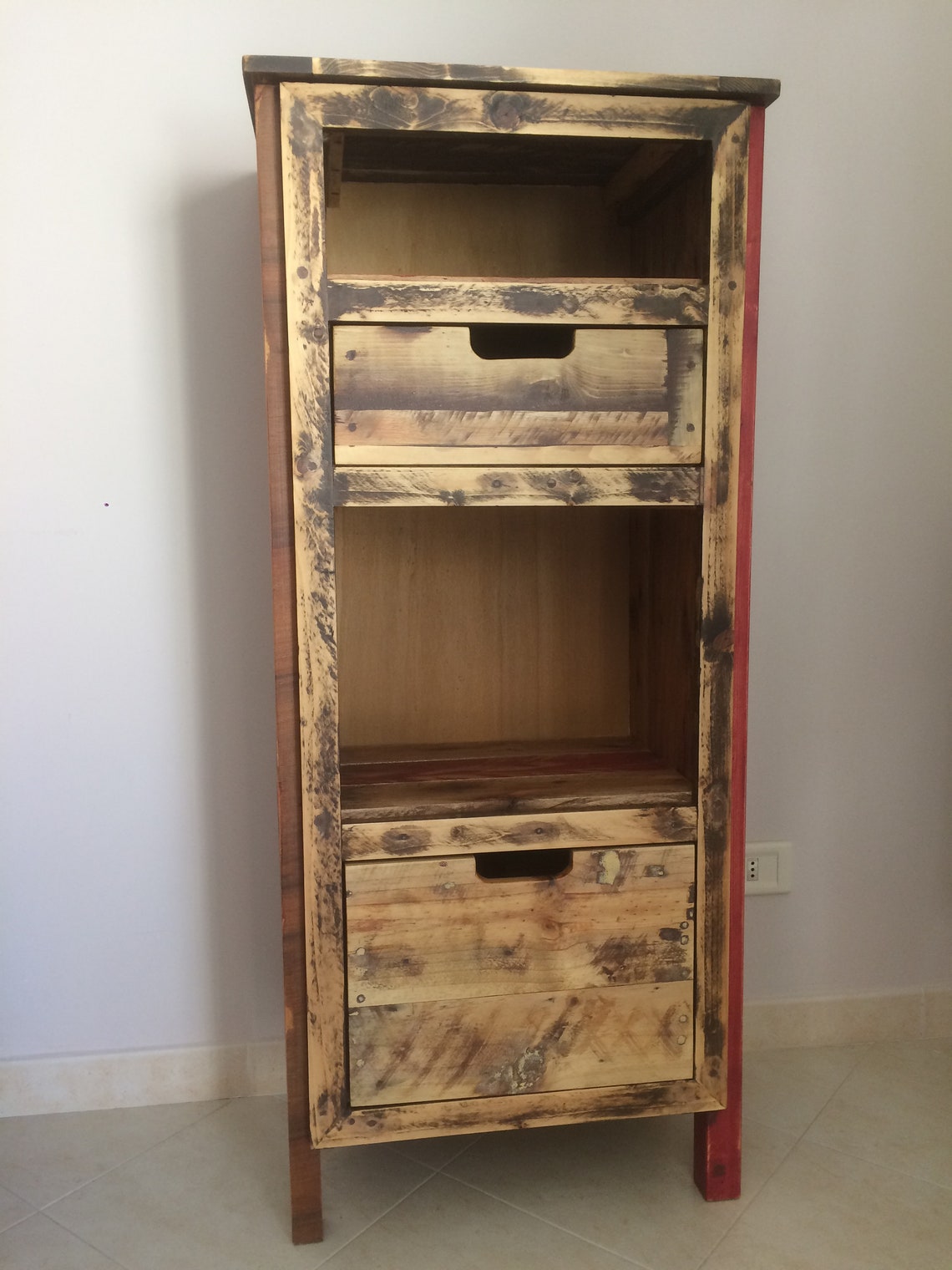 Source: WoodVibration/Etsy
Equipped with three racks and two open shelves, this kitchen cabinet is a perfect alternative to those expensive furniture storage ideas that burn your pocket, take a lot of room inside your kitchen, and eventually fail to meet your kitchen storage-related needs.
10. Free-Standing Shelf
Source: MyGift/Amazon
If you don't want to make multiple pallet wood DIY storage units, then just create this one nine-slot freestanding shelf and your kitchen might not need any more furniture. From kitchen jars to dishes and your indoor plants, you can rely on this one furniture idea for keeping everything well-organized in your kitchen.
Bonus: Pallet Wood Coasters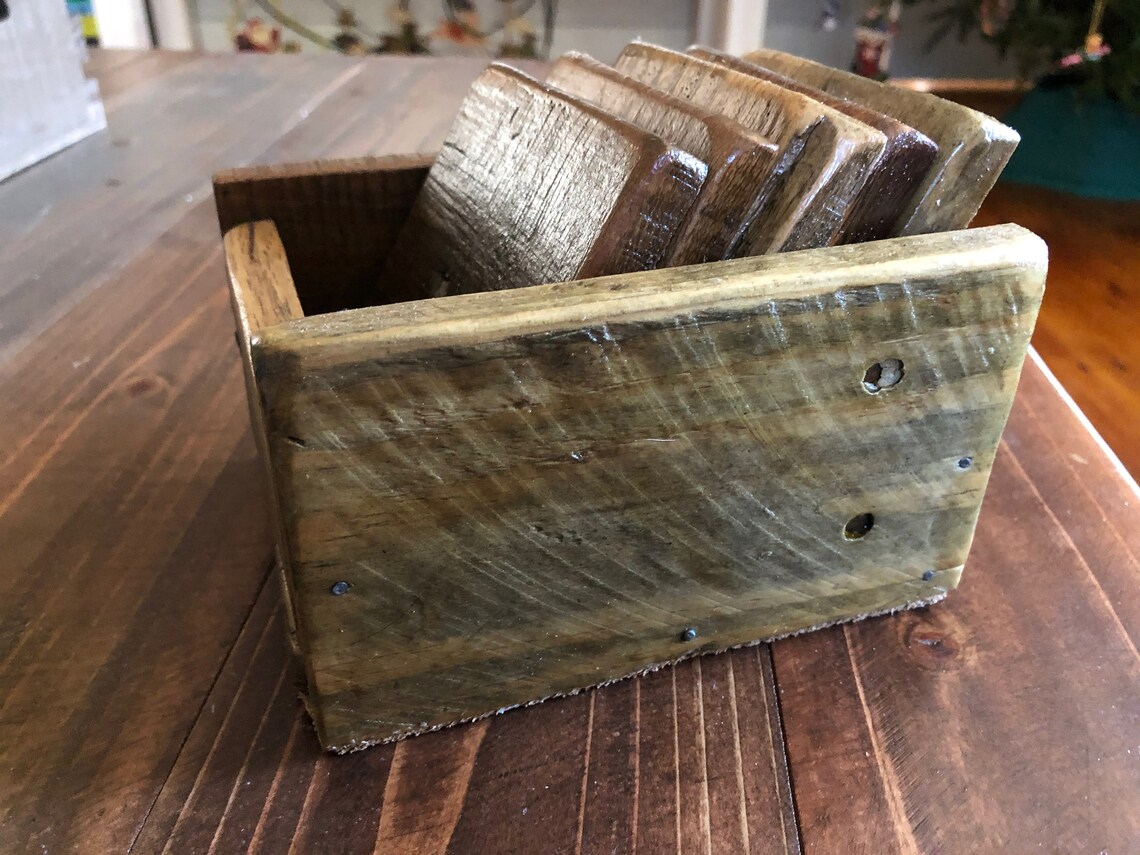 Source: ThePalletChick/Etsy
Complete your pallet-wood furniture collection with these classic pallet wood coasters that are super-easy to make. They will last for generations and keep reminding you of all your memorable DIY projects.